Hey yo! It's another version of the fantastically frantic and fired-up Finisher Fridays!
With all the talk about
wrestling business trends
,
wrestler movement and unrest
, and all the depressing
injury news
, we look back to this week's action-packed Monday Night Raw when Seth Rollins has again joined forces with The Authority to beat up the Beast Incarnate, Brock Lesnar, much to the chagrin of others.
While most of the hard-hitting action we saw was about apologies and friendly-noogies, the highlight of the night was when Kane booked Brock Lesnar a first-class ticket to #ChokeslamCity.
And for some of us here at the Smark Henry broom closet who hasn't still moved on from the ended streak, it felt like sweet, sweet retribution. Hey, 'lest we forget that Kane is 'Taker's brother!
Now compared to its neighbouring Suplex City, here is more vicious move that is basically meant to hurt someone else bad. Like really bad. You start by literally having to clutch an opponent's neck with your hand. And if that isn't enough to cut off his breathing, you lift him up, applying more pressure to the throat. As quickly as you raise him up, you slam him back to the mat.
Now with this move being associated to wrestlers such as The Undertaker, Big Show, Vader, Abyss to even The Hurricane, the choke slam is a vile thing to do to an opponent and possibly, one of the rare moves fit to tame a beast.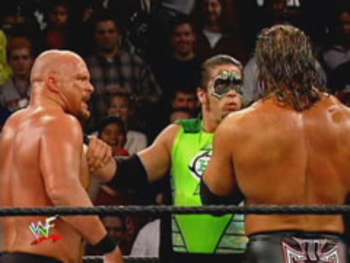 Well, not everyone.
Photo from
I guess with all the hits and misses from this week's Raw, we all needed to see some shining moments and some brand new phrases for vintage Michael Cole to say, right?
*****
Do you think #ChokeslamCity is fetch? Do you think Brock will break Kane so bad that he'll have to wear his mask back? What finisher do you want us to feature next? Hit us up at the comments box below!