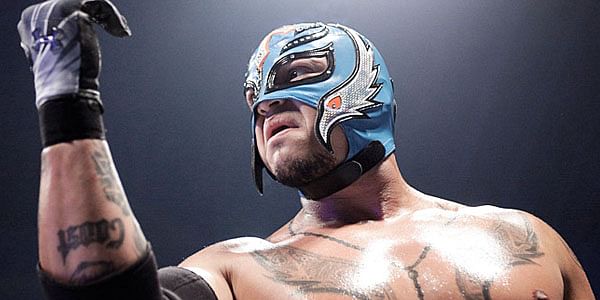 Good morning, everyone! It's your daily Grapevine, and for those who need to catch up, here's today's round-up of the (technically unconfirmed) dirt and rumors from the cartoon world of pro wrestling that you may have missed from the day before.
A couple of interesting bits of news in the pipeline this Friday:
TNA attempted to sign Rey Mysterio recently. Seeing as Rey is still a huge Latino star, they would have bent over backwards to have him and his pull with the Hispanic audience. That would have meant letting him work wherever and whenever he wants, probably similar to Brock Lesnar's WWE deal. Rey is still likely going to Lucha Underground, but nothing is final yet.
We say: Might we add that TNA is willing to bend over backwards when they can't even pay some of their talent? With all of the double-crossing going on from both them and Destination America, we recommend TNA get its house in order first before sinking their money into an investment that might not even gain returns—let's also not forget that Rey is a pretty fragile wrestler late in his career. If I were TNA wanting to blow my money on a bigger star, I'd still try to go for Alberto El Patron. But he doesn't want to go there, and TNA shouldn't even be spending money they might not have on big names from outside.
WWE is considering hiring more part-time stars to boost the NXT roster, especially for the house show circuit. The belief is that its big names, such as Kevin Owens and Finn Balor, would be on the main roster soon, so they'd need to be replaced with equally credible names from outside, like Samoa Joe and Rhyno. (In a related note, indy star Johnny Gargano is working with the debuting Uhaa Nation on the show.)
We say:
They have the money, so they can pull it off, but I imagine this is
not
going to sit well with the homegrown Performance Center talent. They're also going to need to loosen up that
TNA/ROH rule
, too; not everyone can come from DGUSA or EVOLVE.
It's possible that the ongoing Paige angle is leading up to an NXT Diva callup. It may be one or two among Charlotte, Bayley, Sasha Banks, and/or Becky Lynch. On that note, Bayley is also working through a broken arm.
We say: It's one of those "it's gotta be going there" things, and it's a softball. However, take it with a grain of salt as historically, the obvious might not always be what the WWE is planning.
People want MMA fighter Jessamyn Duke, one of Ronda Rousey's Four Horsewomen, to get a Diva Search tryout. There might be a Diva Search later this year, and she's on the brink of a third UFC loss on their July 25th Chicago show. The idea is she could try out for the WWE if she gets cut from the promotion.
We say: Shame she wouldn't have made Tough Enough because of the schedule. Then again, the Diva Search is not bad in itself; it's what you do with the exposure after that counts. Just ask Maria Kanellis.
What do you think? Should TNA be signing Rey Mysterio? Which NXT Diva should get the call to help Paige? Let us know in the comments!
Source: WON. Photo from Sportskeeda.com.