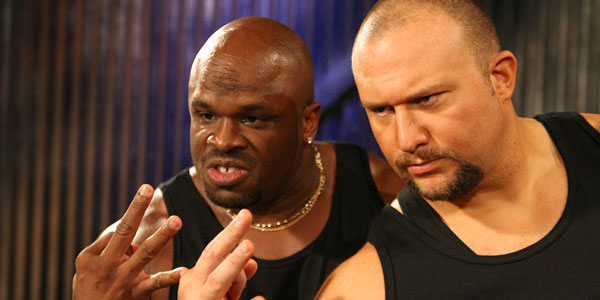 Good morning, everyone! It's your daily Grapevine, and for those who need to catch up, here's today's round-up of the (technically unconfirmed) dirt and rumors from the cartoon world of pro wrestling that you may have missed from the day before.
Not a lot of hot rumors over the past day, but let's take a stab at it:
Despite his full-time WWE contract, ROH is still advertising Samoa Joe for its June 20 TV taping. ROH did not mention whether his tag match with AJ Styles versus tag champs The Addiction would be televised.
We say: We don't know the full details of Joe's new WWE contract, but if it doesn't retroact to cover prior agreements, ROH should show the match on TV. It's a huge main event, and they had him first before he was held to the WWE deal. All that said, it's sad that Joe has to take back his "game-changing" agreement, but if Joe feels it's best for him to stay with WWE full-time, then we have to respect that.
The Dudleys aren't liking the fact that Luke Harper and Erick Rowan are using the 3D. The Wyatt Family (or the Reapers) are now calling it The Way. Harper and Bully Ray had a minor exchange on Twitter about it after seeing it on RAW.
We say: This is most likely a work, considering that Ray tagged the official WWE Twitter account and used the hashtag #RAWNewOrleans, and pretty much suggested to Harper that they settle it in a WWE ring. Wyatts/Dudleys is a thing that needs to happen.
Stone Cold Steve Austin says he was not trying to build a WrestleMania match between him and Brock Lesnar. On his latest podcast, he claims that he just cut a promo at the time because it felt right, and that he didn't know what Paul Heyman was going to say to him. Stone Cold says he didn't mean to raise everyone's expectations.
We say: Well, duh. Stone Cold's beat up, broken down, got a broken neck, and is happy not being a wrestler. Even if they were friends, why would Brock take the risk of possibly killing Austin in a match?

What do you think of today's news? Do you think the Dudleys are legit upset? Let us know in the comments below!

Photo from WhatCulture/TNA