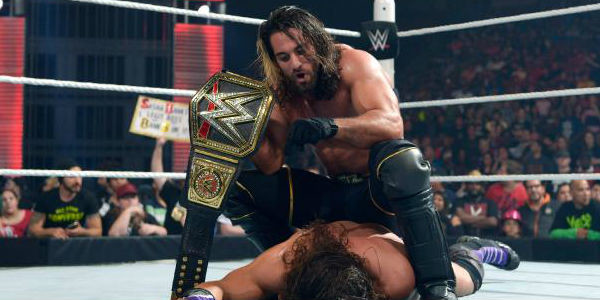 Good morning, everyone! It's your daily Grapevine, and for those who need to catch up, here's today's round-up of the (technically unconfirmed) dirt and rumors from the cartoon world of pro wrestling that you may have missed from the day before.
We haven't done the Grapevine over the weekend largely due to Dusty's passing, and partly due to a slow past few days for rumors.
Seth Rollins is planned to turn face for SummerSlam. He's slated to face Triple H for the WWE World Heavyweight Championship, which explains why he's slowly been turning against the Authority (if you hadn't already noticed).
We say: This sounds really, really exciting. SummerSlam seems to be the pay-per-view where the new status quo is established (e.g. Daniel Bryan in 2013, John Cena's demotion last year), and we at least have always wanted to see a Seth Rollins who can stand on his own. This should be his true graduation into "Face of the WWE" status.
If you didn't already know, Brock Lesnar is scheduled to return tonight. We originally reported that he was slated to come back next week, but word is flying around that it's actually tonight.
We say: It only makes sense, because why wait a week after Money in the Bank?
A small update on the Stone Cold Podcast news from last week: Vince wants the podcast to be less insider and really more entertaining, a la Talk is Jericho. For the most part, that happened, up until they discussed Brock Lesnar.
We say: Interesting, but it's quite off-brand for Austin, to be honest. He might be happy to do the job, but he naturally drives the conversation toward insider stuff. We wonder how long he'll be happy to do the podcast for the Network.
What do you think? Should Seth Rollins be turning face? Would you want to see that? Let us know!
Source: Wrestling Observer Radio, WON. Photo from WWE