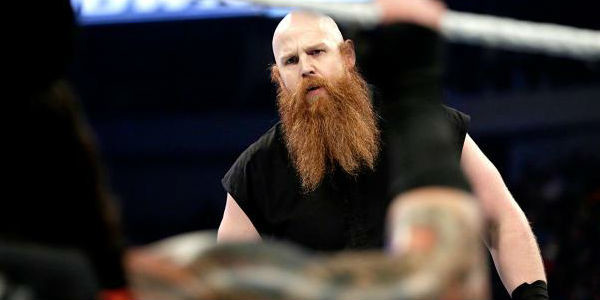 Good morning, everyone! It's your daily Grapevine, and for those who need to catch up, here's today's round-up of the (technically unconfirmed) dirt and rumors from the cartoon world of pro wrestling that you may have missed from the day before.
A lot has gone down over the past 24 hours, so let's not tarry further!
Erick Rowan has been injured at a live event this past weekend. Joey Styles broke the news over Twitter that Rowan got hurt at the WWE event in Saginaw, Michigan last Friday after a reportedly hard-hitting match with Cesaro. Like Tyson Kidd initially, the company is not releasing any specific details about the injury.
We say: Let's hope that it's nothing serious. Rowan and Harper have been gaining steady momentum as a reformed Wyatt Family, flying under the radar as potential championship contenders. It's safe to assume that they're big (no pun intended) favorites.
We reported yesterday that Gunner has left TNA, and soon after that news broke, Samuel Shaw was also reported to be gone. Word backstage is that it was a measure done because TNA had no plans for either man, and that the door was open for a possible return.
We say: That's a shame, but it had to be done for quite a while now—TNA has too little programming time to have space for everyone on their roster. These two still have some potential, especially Shaw, and it would be good for them to go somewhere else to hone their craft further.
But speaking of Gunner, word on the street is WWE is interested in picking him up, along with ROH stars Moose, Adam Cole, and ROH World Heavyweight and Television Champion Jay Lethal. Even though Lethal won big at ROH's Best in the World PPV, his deal is apparently close to expiring. WWE also intended to put Moose on Tough Enough without guaranteeing a contract should he not win the competition; but Moose revealed he had signed a new deal with ROH and doesn't see himself anywhere else at the moment.
We say: That's a huge list of potential new stars, but we have a feeling that WWE might be overstocking their already-stacked roster if they do this. It's akin to Philippine basketball teams glossing over homegrown athletes to look for imports. The WWE should at least try to go with their Performance Center athletes for now; the need for new young/indy stars isn't that dire at the moment, in our opinion. Also... this sounds somewhat contradictory to last week's report that WWE is trying to avoid signing anyone from ROH or TNA.
What do you think? Should the WWE continue to pick up indy stars? If yes, who (else) should they go for? Let us know in the comments!

Source: PWInsider. Photo from WhatCulture