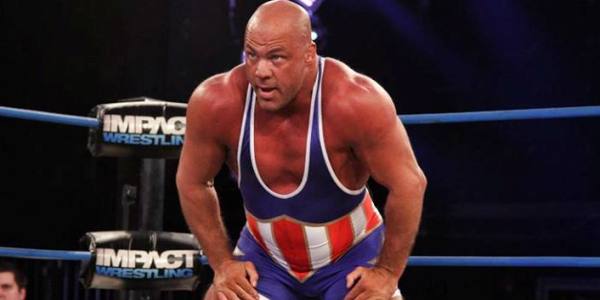 Good morning, everyone! It's your daily Grapevine, and for those who need to catch up, here's today's round-up of the (technically unconfirmed) dirt and rumors from the cartoon world of pro wrestling that you may have missed from the day before.
It's been a hot day yesterday, and we're starting off with some drama:
Kurt Angle was apparently misled by the Jarretts' return to TNA on this week's Impact Wrestling. Angle knew that the Jarretts would be there to promote GFW, but he was "swerved" to find out that Jeff Jarrett would be competing in the King of the Mountain match at Slammiversary. The Jarretts also brought along Kurt and Karen's kids to the taping. Kurt feels like his feelings weren't taken into consideration by TNA.
We say: Hoooo boy. TNA is just a house of awkward unprofessionalism, and if this is Dixie, then Dixie be Dixie. I mean sure, #DoubleJBack, but how do you not tell a man that his kids are coming? Sounds like Kurt should've jumped ship when he had the opportunity to, because why would you work for such a callous employer?
While we're on #LOLTNA, Low Ki has decided to leave the company yet again. He lost to Tigre Uno in an X Division Championship match this week, and suddenly tweeted news of his release.
We say: After not winning the X Division title, it's kind of hard to be surprised about this. We felt like he was due the championship, but we also know that Low Ki is a notoriously difficult man to please backstage—this is the guy who left WWE just because things didn't go his way. While that's certainly his right,
Hernandez returned to TNA in last night's Impact Wrestling tapings as well. He requested a release from Lucha Underground, and apparently he feels that there was a breach in the LU deal. As to what the breach exactly is, we have no word.
We say: No big loss. Hernandez wasn't getting the reactions he thought he deserved at LU, and we doubt the reactions he'll get in TNA will be anything more than lukewarm.
Randy Orton is taking time off. He won't be gone for long, though, as he'll be back in two weeks at the July 6th RAW. He's just spending time in Bora Bora with his girlfriend, and is slated to face Sheamus at Battleground.
We say: While the buildup to their eh match would be hurt a bit by this, it might be good for the story overall. WWE Creative doesn't really know how to handle extended builds anymore (actually, they don't know how to handle any sort of build) so the less we see of this, maybe the better.
Speaking of WWE, one writer has expressed frustration with Vince McMahon's direction. This writer is frustrated that the company keeps booking itself into a corner and not giving people the consistent wins they need to gain upward momentum. (See: Rusev.)
We say: We feel you there, buddy. But since you're just a cog in the machine that has to answer to ol' Vinny Mac, there's not much you can do about it. The whole company's honestly carried on the back of its phenomenal in-ring talent.
The NWA streaming service that we reported on before is set to launch on July 4. The on-demand service, called NWA Classics 24/7, will feature hours of old-school wrestling from the late 60s to 1986. The NWA, however, hasn't released any further details on how to get it or how much it will be.
We say: Again, should be a treat for old-school fans. It's a bit shady, however, that they haven't told us how to get it and by how much it'll set us back.

What do you think? Did Kurt get done dirty? Is TNA's revolving door reflective of things backstage? Let us know your thoughts in the comments!
Source: WON. Photo from TNA