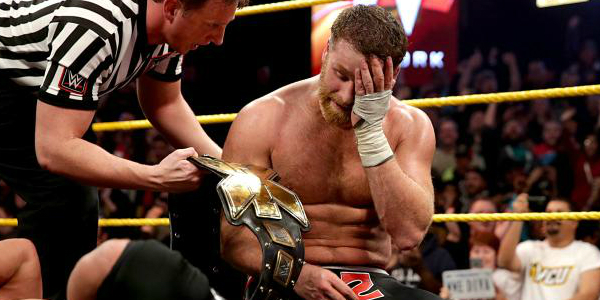 Good morning, everyone! It's your daily Grapevine, and for those who need to catch up, here's today's round-up of the (technically unconfirmed) dirt and rumors from the cartoon world of pro wrestling that you may have missed from the day before.
All of a sudden, it's been a crazy last 24 hours, topped off with the possibility of new WWE superstars!
Sami Zayn is expected to be out of action until October. Zayn had just been spotted in Birmingham, Alabama, residence of top sports orthopedic surgeon Dr. James Andrews. Edit: There was a segment on this week's NXT that showed Zayn undergoing the procedure.
We say: If there's anyone who can fix a wrestler (and any athlete, for that matter) it's Dr. Andrews. October is sooner than we think, being only four months away. It'll be long enough for us to miss Sami, but short enough to get him back pretty quick.
To shore up NXT's sudden lack of depth thanks to the Kevin Owens call-up and the injuries to Hideo Itami and Sami Zayn, a group of notable indy wrestlers are trying out for the WWE. They're names any indy fan would immediately recognize: Johnny Gargano, Chuck Taylor, Drew Gulak, Biff Busick, former TNA Knockouts Champion Jessicka Havok, former TNA knockout Taeler Hendrix, among others.
We say: It's always good to hear popular indy wrestlers get a shot at joining WWE, and this is no different. Jessica Havok can add a different kind of female presence to the show, and I can really see her dominating the Divas division in the future. Gulak, Busick, Taylor and Gargano are known indy stars, and maybe NXT's next big force. Yes, it's just a tryout, but the mere fact that WWE is giving these guys a chance shows that they're well aware of the talent that's out there.
To update what we previously reported, it's believed that Tyson Kidd suffered a spinal cord injury in his match against Samoa Joe. There is no official news or diagnosis coming out, for some reason, but he's expected to be out for several months. It was previously reported that Kidd is trying to avoid surgery, but all of that is highly unknown due to lack of information.
We say: We're not sure why the WWE is choosing to keep this injury news a secret—perhaps for defensive PR reasons—but we hope Tyson can recover. Spine injuries are no joke; just ask Angle, Edge, Steve Austin, and Daniel Bryan. For anyone who believes that Samoa Joe was responsible for this, we're almost 100% sure that that's not the case. A spine injury is usually the result of wear and tear. Kidd might have to dial down his wrestling when he returns.
According to a backstage source, Sheamus was originally supposed to win the Intercontinental Championship at Elimination Chamber. Ryback winning was a last-minute decision.
We say: It's certainly not the first time Vince McMahon has changed his mind at the last minute. While the win certainly felt a bit flat, this may prove to be a nice little change in the status quo. We're in wait-and-see mode with this (and it's not like we have any other choice, anyway).
And while we're on the topic, we're likely to see John Cena get his win back against Kevin Owens. And for what it's worth, there are those in Creative who are against it, but they're just a team of underlings who have to answer to Vince McMahon.
We say:
Everybody knows how stubborn Vince can get about these things. If Cena wants to put Owens over, he'll have to stand up and demand to lose. We don't know how he did it for Lesnar, but it needs to happen.
Got any comments? Reactions? Comment away!
Source: WON, PWInsider. Photo from WWE.com.