Howdy fellow Henrizzles!
Welcome to your weekly source of wrestling's fancy holds and hard-hitting maneuvers, #FinisherFriday!
It has truly been Bayley weather this entire week, much to the enjoyment of us here at the Smark Henry broom closets. But in contrary to the the cold outdoors, it has been an action-packed week of wrestling from the different promotions from shmexy submission holds, mid-air face rearrangements, and a hometown championship victory, among others, of course.
Without further ado, here's Smark Henry's Top 5 highlight finishes of the week!
*****
Runners Up: Ever wonder how a floating butterfly looks like when stung by a bee?
Or simply Kapow in the air, like you just don't care! No?
It was a smashmouth episode of Raw, as we saw mid-air KOs with the Bullhammer and the Superman punch. Talk about knocking some sense into the two knuckleheads, Sheamus and R-Truth to never climb the turnbuckle again.
via threemanbooth.com
And R-Truth? That's what's up. Ouch.
#5. The Banks-Flair Affair
via thenxtrevolution.wordpress.com
This week's episode of NXT saw The Boss, Sasha Banks standing alone against the blonde duo, Dana Brooke and Emma. Although it didn't take too long for her ex-BFF Charlotte to come to her aid, with an agreed upon incentive of a NXT Women's Championship match next week!
It was a quick match, but the finish was sweet, seeing The Bank Statement and the Figure Eight leglock being applied at the same time on Brooke and Emma, respectively.
Sigh. Don't you just love the NXT WOMEN's division?
#4. The Kiss of Death
Imagine you're Son of Havoc and facing one of the most daunting luchadores in Lucha Underground, Mil Muertes. Imagine how you would have felt when he clutches your neck for his finisher, the Flatliner. Sure, his version of the Reverse STO would undoubtedly smash your face in. But as he gets the three count, you see Catrina stepping in the ring and stepping closer to your stinking carcass and does this..
Bittersweet victory. For you and for her.
via todaysknockout.com
Imagine how that would feel like. Catrina licking my face >>>>>> winning.
#3. Fall of the Broman Empire
Something I really can't stomach is seeing former buddies beat the heck out of each other. I mean, come on, Zack Ryder's cross-promotion broskis have got it going on, well just not these past few months.
And after seeing Jessie Godderz put his Adonis Crab on Robbie E (mental image: off), while pining him down with a steel chair, I doubt we would see a reunion anytime soon. #FO
I guess we'll just have to settle for this.. It still get tears in my eye watching this.
#2. Brock Lesnar destroys the J&J Cadillac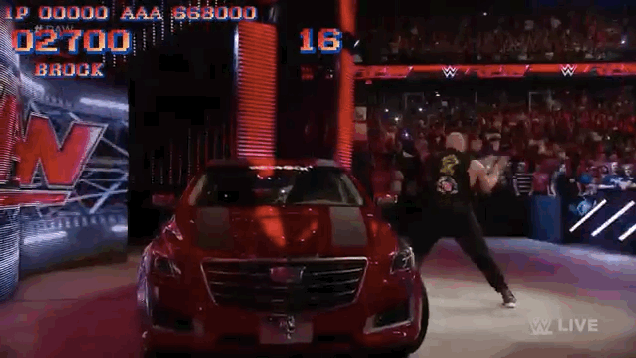 via kotaku.com
Just like the Spanish announce table, every car appearance is a limited edition sighting. Whenever cars are introduced in the WWE universe, it's ultimately bound to have a very quick depreciation rate. Exhibit
A
.
B
. and
C
.
While Battleground ain't happening until next Sunday, this Raw felt like a strong go-home show, with matching Rollins running wee-wee all the way home.
Guess he can add gas to the list
via wemarkout.spreadshirt.com
Yup, as everyone already knows, Finn Balor has defeated Kevin Owens for the NXT Championship!
A heavily used indie move, Balor's Coup de Grace is a cut above the rest, as none does it as gracefully, flawlessly and colorfully, at least in this case, as Balor does.
Too sweet.
via cleatgeeks.com
With this signifies KO's formal jump to the mainstream roster, this also marks as an awesome beginning for the Irishman who grew up in Japan. And while we celebrate his victory now, we can only salivate at the thought of his eventual
WrestleMania
main event culmination.
*****