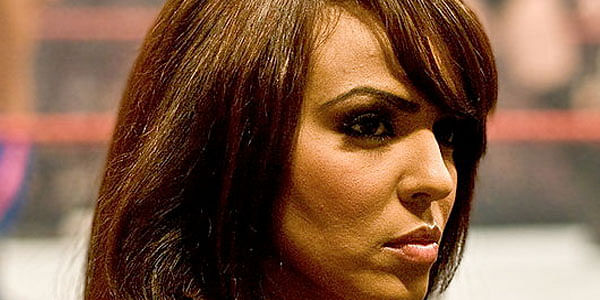 Layla El has officially announced her retirement from the WWE.
In an exclusive interview with WWE.com released today
, the 2006 Diva Search winner and former WWE Women's and Divas Champion announced that after nine years in the company, it's "just time to start the next chapter of [her] life."
"In 2006, I was very spunky and I had just finished dancing for the Heat and artists like Kanye and P. Diddy. I didn't know what I was getting myself into of course — that innocent, gullible thing. And now, growing up with WWE, I feel like a grown woman, a mature woman. This Layla, I feel, is accomplished and has had a lot more world experiences than I could have dreamed of. I've traveled everywhere in the world. I've been to Iraq during the war and there've been so many things I've been able to do — participated in charity events, performed live. I feel like I'm wiser, more experienced and I know what I want now."
It's a shame to see her go, as she was one of the most underrated models-turned-wrestlers the WWE hired under John Laurinaitis's run as VP of Talent Relations in the mid-2000s. She might not have been the best female wrestler in the company, but she managed to come a long way, improving enough as both an entertainer and a wrestler to have an okay run with both the Women's and Divas titles, as part of LayCool and by herself.
It's only a shame that after some injuries in her peak and regressing a bit, she was used sparingly in more recent years—with her last notable storyline being Fandango's squeeze and turning on him to team with his original ex, Summer Rae.
What's next for the British bombshell, though?
"To be perfectly honest, the first two weeks, I'm doing absolutely nothing. [laughs] No, I have stuff that I would like to do. I would maybe like to do some TV stuff, whether it's in the States or in the U.K. I've talked a little bit about maybe going back into my dance background. I'm going to start choreographing and might even go back to the Heat to start choreographing with them.

And then, of course, I'm engaged now to my fiancé Richard. We're going to get married and then later on, in a few years, I want to have some kids and start my family life."
We can't argue with that. As for her last words to the WWE Universe (that has always supported her, being one of their favorite Divas):
"I'd like to tell WWE Universe "Thank you" for always being loyal to me. They've seen me through my good times and in my bad times. In one of the first interviews when I won the Diva Search, I said to the fans, "I won't let you down," and I truly feel like I can walk away saying I have attained anything that any Diva was able to attain.
I was in the first-ever Divas Tables Match [at TLC 2010]. I was the first Diva Search winner to win both championships—the Women's Title and the Divas Title. I was able to be in Lay-Cool, which was the highlight of my career. I am just blessed in every way. I feel like I have done everything that I would possibly have done with WWE, so I'm walking away a very happy camper and I hope everyone else is happy with my decision, too."
And as our parting gift for Layla, have a solid little Layla match.
What was your favorite Layla moment? Let us know in the comments!

Photo from WWE