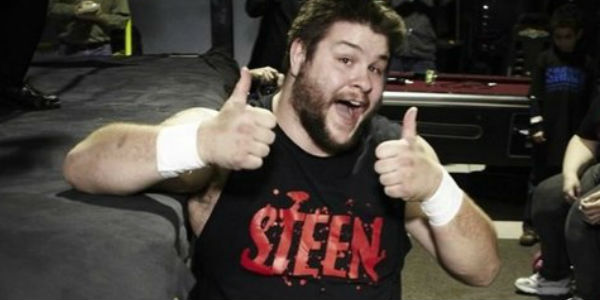 The idea was to have another Prince Devitt match on this week to celebrate his NXT Championship win last Saturday. But
yesterday's #IndieWeekend
already put the spotlight on the man now known as Finn Balor, and we don't want to do as WWE does and accidentally shove him too far down your throats.
Instead, let's focus on the other part of the equation.
Much like Devitt, Kevin Owens (nee Steen) arrived in the WWE on a loaded hype train. While much of that hype has now been justified in a stellar six months on the world's biggest wrestling stage, it's interesting to see that Owens is rising in the ranks of the WWE without having to change the things that made him popular in the indies in the first place (much like a certain punk made in Chicago).
Granted, the man still has a lot of time to evolve, but we're not kidding when we say he's still largely the same guy. For those who only became familiar with Owens in NXT, you'll see in this Preston City Wrestling match versus Dave Mastiff, a 5'10", 310-pound wrecking ball of a man from the UK, that only the names have been changed and his belly is just a little smaller.
You'll see the same snark, the same candidness (watch his reaction when Mastiff hits a perfectly high dropkick on Steen), and pretty much the same moves (which have actually been toned down from his ROH spotfests) in this hard-hitting 12-minute brawl.
And then you'll wonder why you didn't start following Kevin sooner.
What kind of matches do you want us to talk about on #MWM? Let us know in the comments!
Photo from WhatCulture