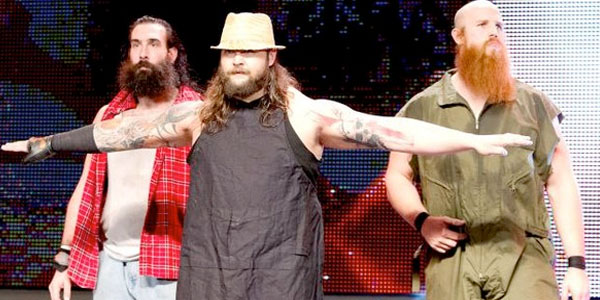 Good morning, everyone! Welcome to the Grapevine, and for those who need to catch up, here's today's round-up of the (technically unconfirmed) dirt and rumors from the cartoon world of pro wrestling that you may have missed from the day before.
There was little in the way of juicy rumors over the long weekend, which was why the Grapevine was out for the time being. We got some interesting tidbits coming out of
Battleground
, though:
We might be seeing a new Wyatt Family member debut. The original plan for SummerSlam was the Wyatt Family vs. the team of Sting, Roman Reigns, and Dean Ambrose, but seeing as Erick Rowan is out injured, there could be a new member debut if they still go for the six-man tag. Otherwise, it might just be Harper and Bray vs. Sting and Reigns. (Source: WON)
We say: Unless Dean Ambrose is given something new to do—which he probably won't—we'd say go for the six-man tag. But who to get, though? Might we suggest someone who is related to Bray himself? Someone... inspirational, perhaps?
Triple H and Stephanie McMahon are firmly behind the "Divas Revolution" angle. They want the Divas to be less about drama and being sexy and more about the action. (Source: PWInsider)
We say: Basically, what Triple H has been doing with the ladies over at NXT. We approve, of course.
You may have noticed at Battleground last night that there have been a slightly alarming number of bumps taken on the apron. According to Dave Meltzer, this is apparently related to Ring of Honor in some form. As to what exactly it is about ROH, it's a little unclear, so take this one with a huge grain of salt. (Source: WON)
We say: If this is true, then this is ridiculously reckless. The apron is the hardest part of the ring because it's the edge, and if officials are actually encouraging wrestlers to hurt themselves even more, they're stupid. They're already losing their guys pretty fast thanks to their grueling schedule. We hope this isn't true.
What do you think? Who's your pick to join the Wyatt Family? Let us know in the comments!

Photo from WWE