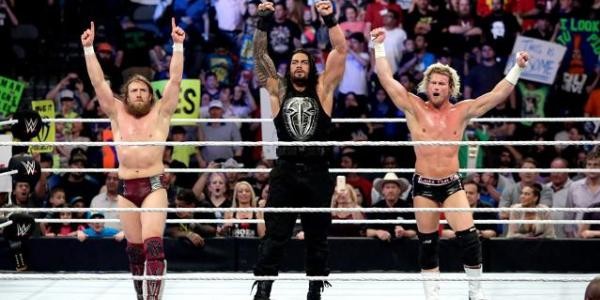 Good morning, everyone! Welcome to the Grapevine, and for those who need to catch up, here's today's round-up of the (technically unconfirmed) dirt and rumors from the cartoon world of pro wrestling that you may have missed from the day before.
Yesterday's storm has died down for now, so today's news is a little light:
If you didn't know by now, there are plans for SmackDown to move to the USA Network by 2016. Until that happens, the show is a sitting duck, but once it does move it will be "restored" as an important show where big plot points will happen. (Source: WON)
We say: That's certainly a far cry from what we've heard about the show earlier this year. The big suggestion should still be axing SmackDown and bumping NXT up to two hours, or at least one and a half, but if there are at least plans to save the blue brand, we can get behind that. Just do something. Anything.
While we're on TV shows, NJPW on AXS has been extended through the end of 2015. The show draws 200,000 viewers on average. The rest of this season will feature Wrestle Kingdom 9, both New Beginning shows in Osaka and Sendai, the annual Fantasticamania show with CMLL, among others. (Source: AXS TV)
We say: This is good for NJPW, as we've found that Mauro Ranallo and Josh Barnett's work helps a whole lot in introducing NJPW to a whole new audience. It's one of the best wrestling shows on American TV that some of you may not be watching. If you want to jump off on NJPW now, especially by catching up on its current material, your best bet is to get into this show.
WWE is looking to sign former German soccer star Tim Wiese to developmental. They're apparently looking to create a new German star, and the guy they already have, Axel Tischer (the guy who jobbed to Samoa Joe last week) isn't that good on the mic. Wiese apparently has the size and look that WWE want. (Source: WON)
We say: Looks like they're trying to penetrate the German market further. They should just be careful about how they push this guy if ever; no one wants an Aryan Roman Reigns.
More playable wrestlers on WWE 2K16 has been released. In addition to everyone that's been revealed so far, you can now play as The Rock, Triple H, Andre the Giant, Hulk Hogan, and most importantly, Alexa Bliss!
We say: They're really taking this seriously, huh? Let's hope Alexa isn't an Eva Marie palette swap.
What do you think? Do you still even want to see SmackDown? Is there hope for it? Let us know in the comments!

Photo from WWE