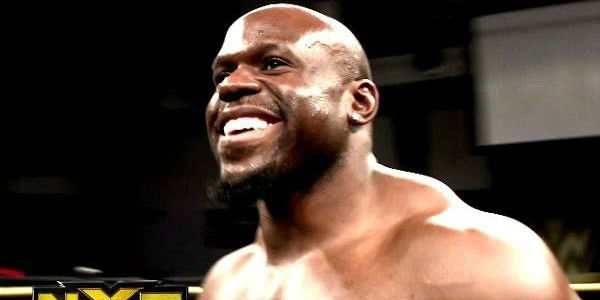 In case you missed the news this morning, recent NXT signee and indy sensation Uhaa Nation (nee Sesugh Uhaa) is
finally
debuting on NXT, as of tonight's episode. That means we have a new name, too:
That's right, Apollo Crews.
Quick take? That's a badass name. If you're wondering whether it's a reference to Apollo Creed and Terry Crews, then yes, yes it is. The main criticism against WWE-manufactured ring names is that they have traditionally been too generic (see: Jackson Andrews, Eli Cottonwood, Percy Watson, Darren Young, Dean Ambrose), and moving toward catchier (if not more interesting) names like Kassius Ohno and this is only a good move.
And not only is it a badass name, but it fits, too. You look at Uhaa and you can imagine him as an Apollo Crews. Maybe because he does conjure up the image of Apollo Creed and Terry Crews—and certainly not because of the color of his skin, before anyone jumps to that conclusion. It's just like Brian Kendrick originally calling himself Spanky DiCaprio because he looked like Leo, or Rob Van Dam taking the name because of his resemblance to Jean-Claude.
We can't wait for Apollo's debut. The only thing left is to make sure he has a blood feud with Dolph Ziggler.
Are you excited too? Let us know; let's talk about it in the comments!
Photos from WWE and WhatCulture