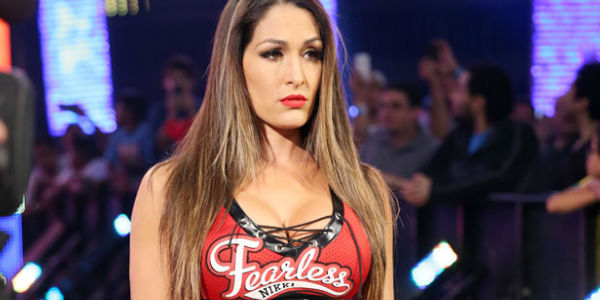 Good morning, everyone! Welcome to the Grapevine, and for those who need to catch up, here's our round-up of the (technically unconfirmed) dirt and rumors from the cartoon world of pro wrestling that you may have missed over the weekend.
We've got some injury news (other than Kanto Terror):
It seems as though Nikki Bella is dealing with some sort of back injury. She had a partially separated shoulder (that did not need time off) a while back. This back injury doesn't sound too serious, as Nikki revealed on Twitter that she just has to rehab her back. (Source: WrestlingInc)
We say: The more you get better in the ring, the more you risk hurting yourself, we guess. We wish Nikki a quick recovery from anything that's ailing her right now.
Former ROH star Tommaso Ciampa, who appeared at the latest set of NXT tapings alongside indy star Johnny Gargano, is not injured. There were reports coming out of the weekend that he was dealing with a neck injury. Ciampa denied these reports on Twitter, saying he was "100% healthy." Meanwhile, although Ciampa and Gargano got a win at the tapings, they have reportedly not been offered a WWE contract yet. (Source: WrestlingInc)
We say: Interesting, but more on the fact that people would report an injury that apparently isn't there. However, considering Ciampa's recent injury history, there's a chance that he could be lying for a better shot at a deal. We'll give him the benefit of the doubt, though, because we do want the WWE to sign him.
Tough Enough's Josh is apparently set to get a WWE contract no matter what happens to him on the show. Vince is said to really love Josh. Meanwhile, the WWE has also apparently stopped trying to actively make ZZ look bad. (Source: WON)
We say: We wish we could say the same for the other contestants who actually could contribute to the company.
What do you think? If you watch Tough Enough, who do you want to see win it? Let us know in the comments!
Photo from WWE