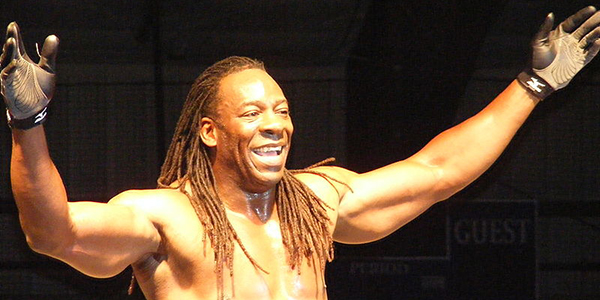 Good morning, everyone! Welcome to the Grapevine, and for those who need to catch up, here's our round-up of the (technically unconfirmed) dirt and rumors from the cartoon world of pro wrestling that you may have missed over the evening.
It's been a snail-paced news day:
Booker T and former WWE and TNA agent Bruce Prichard are planning something big for Booker's Reality of Wrestling promotion in Houston. In a couple of tweets, they were teasing something, but there was no clue on what it could possibly be.
We say: Our best guess is some sort of WWE sponsorship or talent exchange.
Haven, the SyFy show Edge is starring in, has been canceled after the fifth season. The finale will air in October. Meanwhile, Edge has been getting more acting gigs, as he's starring in an independent movie titled Dumb Luck, where he presumably plays a father role.
We say: As the majority of us in the Smark Henry offices are Edgeheads, we think it's great that Edge has found a new stride in acting for TV and film. We hope his career gets bigger, and that we see him in more mainstream projects.
In some TNA news, the company has dropped a date from their Road to Bound For Glory tour for logistical reasons. According to TNA executive Bob Ryder (no relation to Zack), they will be announcing a different venue for that particular date.
We say: These things happen all the time. That said, we just want to get this off our chests while it's still early: please, TNA, don't make what you advertise as your WrestleMania be a glorified house show. Find a venue that makes TNA look like the big show you wish it was. The less we say about last year's event, the better.
What do you think? TNA fans, do you expect Bound For Glory to be an actual TNA show again this year? Let us know!

Photo from WhatCulture