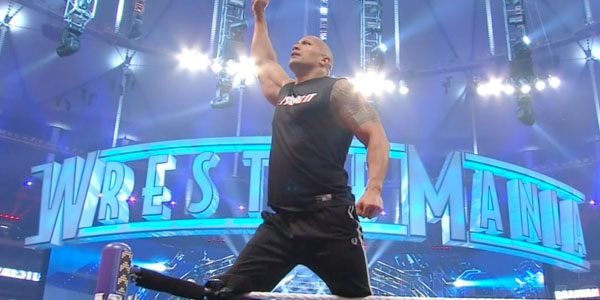 Good morning, everyone! Welcome to the Grapevine, and for those who need to catch up, here's our round-up of the (technically unconfirmed) dirt and rumors from the cartoon world of pro wrestling that you may have missed over the evening.
It was a holiday yesterday and we took some time off, but the free day gives us some interesting news:
There are rumors of a big angle happening at the post-SummerSlam RAW. There are also rumors of a surprise appearance at the PPV to set up a match at WrestleMania Star. (Source: F4WOnline)
We say: To be honest with you, this sounds like one of those vague rumors thrown around before every big PPV. They're moderate-risk, high-reward; anyone can make them and fill in the blanks just by reading between the lines, and if it does come out to be true, it's huge. If it doesn't, then we can all chalk it up to being rumors. Bottom line: take these news bits with tablespoons of salt.
That said, our official guesses are: 1) the big angle has something to do with Sheamus cashing in his Money in the Bank shot, and 2) the surprise appearance is the Rock.
And speaking of PPVs, NXT Superstars could possibly be getting bonuses for TakeOver: Brooklyn. Historically, NXT stars don't get bonuses at large live specials, treating the shows as live show experience, because NXT has been operating at a loss, drawing gates like a big indy show such as ROH would. But because the brand sold out the Barclays Center and is drawing in around $700,000 for TakeOver, this policy could change. (Source: WON)
We say: TakeOver drawing in that kind of money, considering what they usually draw, is great news. It's also worth noting that official main roster call-ups such as Kevin Owens and Sasha Banks probably already get bonuses anyway, but this is huge. This is a significant step toward establishing NXT as its own equal brand and not just a glorified farm territory.
The term "ring rat" has now been banned from the WWE. This is after Tough Enough's Amanda accused fellow contestant Sara of being one. The web team is now forbidden from using that term on the website. (Source: WON)
We say: It's no big deal, we guess. It's a word kids shouldn't be stumbling into, and it's not like it's an important wrestling move/concept.
In an update on Booker T teasing an announcement for his Reality of Wrestling promotion, he revealed that ROW now has a TV deal with the local CW channel in Houston. Booker revealed this news, as well as a new partnership with World Gym, on Twitter.
We say: Very happy for Booker. Not sure how this affects his standing with the WWE, but we're very happy for him.
What do you think? Who might show up at SummerSlam, and what might go down at RAW? Let us know your predictions in the comments!
Photo from WWE