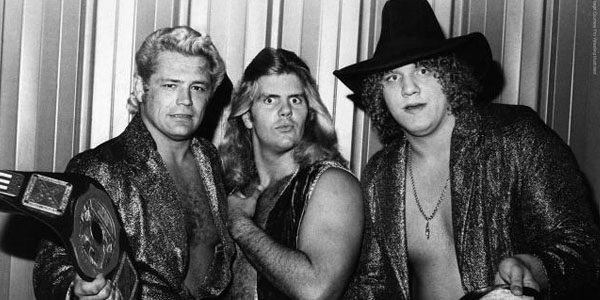 Good morning, everyone! Welcome to the Grapevine, where we round up the (technically unconfirmed) rumors from the wild world of pro wrestling that you may have missed overnight.
We have rumors on who's going into next year's Hall of Fame class:
Michael Hayes and the Fabulous Freebirds are apparently a lock in the 2016 Hall of Fame class. There's been talk going around backstage about this, and Hayes just celebrated his 20th year with the company. (Source: PWInsider)
We say: That doesn't necessarily mean that he'll be headlining, and we're not even sure if this is a smart idea, considering Hayes's rumored racist personality and what just happened to Jimmy Snuka and Hulk Hogan. We might just end up with another potential scandal on our hands.
Ronda Rousey is now not appearing at WrestleMania 32 in Dallas next year. The Rowdy One is filming a movie, "Mile 22," in Indonesia in March and April. She specifically mentioned not being able to be there, so that would kill any existing rumors of the appearance. (Source: WON)
We say: That's a shame, but it's also possible that it could be setting up a swerve. (Damn, wrestling fans have to think of everything.)
WWE reportedly held a meeting with NXT talents about bonuses. Apparently, NXT talents still cannot be paid bonuses based on live gates of special events and tours, as they still need the extra money to pay coaches and help fund the Performance Center and NXT, which is still operating at a loss. (Source: PWInsider)
We say: We understand that NXT is still a growing endeavor, but sooner or later you're gonna have to do something to reward the athletes who are busting their asses making the brand what it is. Surely there can be a compromise that does exactly this?
What do you think? Who else should be going into the Hall of Fame next year? (In before everyone says Owen Hart.) Let us know in the comments!
Photo from WWE