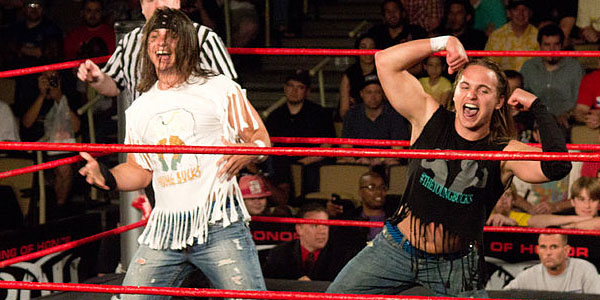 Good morning, everyone! Welcome to the Grapevine, where we round up the (technically unconfirmed) rumors from the wild world of pro wrestling that you may have missed over the evening.
We're winding down on the wrestling week. Thank God it's Friday:
The Young Bucks may be close to signing a deal with Ring of Honor. The team, who has previously been with the company in bursts since 2009, would be working regularly for ROH, NJPW, and PWG if the deal pulls through. On a related note, PWG is trying to work out a deal with ROH to get Adam Cole and Kyle O'Reilly back after the latter, who holds exclusive rights to Future Shock, pulled them following an injury to Cole on a PWG show. (Source: WON)
We say: Seems like it's merely formalities, as the Bucks have been working in ROH consistently since 2013, even if it's just for special appearances. We're curious to see how the Bucks will figure into ROH's regular programming.
We say:
We don't know what it is yet but it seems like it looks AWESOME. The Ascension can have the old Legion of Doom shoulder pads, Stardust can wear the M. Bison power pads, and everyone should just be wearing the Tetsuya Naito Skeletor mask. #SGQ can't wait for this.
Legendary manager Paul Ellering's daughter, Rachael Ellering is training to be a pro wrestler. Rachael is also a powerlifter. (Source: WON)
We say: Powerlifting background makes us interested in her as a prospect. There need to be more powerhouse Divas (assuming she makes it to the WWE, of course).
What do you think? Do you want to see the Young Bucks consistently in ROH? Are you excited at all about the Cosmic Wasteland? Let us know what you think in the comments!

Photo from ROH