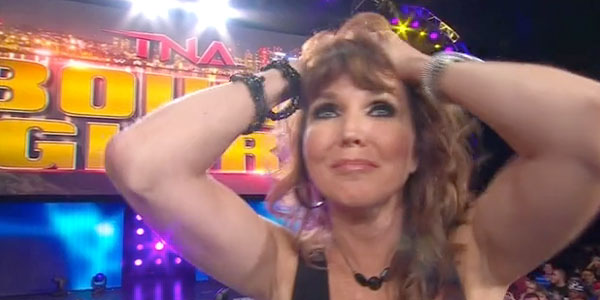 Good morning, everyone! Welcome to the Grapevine, where we round up the (technically unconfirmed) rumors from the wild world of pro wrestling that you may have missed overnight.
We've already covered
Jimmy Snuka's arrest earlier today
, and now we move on to the unverified rumors:
TNA's legal and payroll departments are moving from the Panda Energy offices in Texas to the TNA offices in Nashville. This should hopefully clear up some of the issues regarding late payment, which some talents have been complaining about. Apparently, the reason why some checks are sent late is the scrutiny some payments were subjected to before being approved. It's believed that such a move will help smooth out the process. (Source: PWInsider)
We say: As corporate slaves (in the Smark Henry offices) who know what it's like to have to explain totally justifiable expenses to our Finance department, such as NJPW merch Mr. Sy buys for us during his Japan trips, we understand the issues even more. If there is money to go around, then there should be no reason why the talents who break their backs for TNA and the entertainment of its fans go uncompensated.
Indy stars Rich Swann and Biff Busick are pretty much headed to the WWE. They're just waiting to pass their physicals. Swann had tried out for the company in a previous tryout camp in the Performance Center that was well-documented on WWE.com. (Source: Wrestling Observer Radio)
We say: NXT is looking pretty hot right now, but can Hunter and Co. figure out the best way to maximize their ever-growing pool of amazing talent? There's only so much time to share in the Yellow Brand, even if the shows expand to 90 minutes or more. But we're glad for Swann and Busick.
Juice Robinson, the Wrestler Formerly Known As CJ Parker, got his new NJPW gig thanks to Matt Bloom, the Wrestler Formerly Known In Japan As Giant Bernard. Apparently, his retirement was just for the CJ Parker character. Robinson is going to be pushed in NJPW's junior heavy-kyu division alongside Matt Sydal, the Wrestler Formerly Known As Evan Bourne. (Source: WON)
We say: No matter what you thought of him and his Greenpeace activist character, Robinson was pretty decent in the ring. Japan either spits out gaijins or makes them better, and we think it's going to be the latter for Juice. Can't wait to see how it goes down.
Could William Regal be wrestling one last time at NXT TakeOver: UK? There's been some speculation around the corridors of Full Sail that it's possible Regal could be wrestling a retirement match. (Source: PWInsider)
We say: We'd love to see that. Regal never got a proper send-off before transitioning into an authority figure role on NXT. The best candidate for him to put over? Kevin Owens.
What do you think? Who else do you want to see in NXT? In NJPW? Do you want to see Regal wrestle one... more... match? Let us know what you think!
Photo from WhatCulture