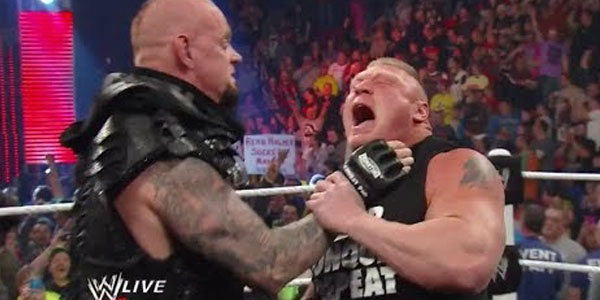 Good morning, everyone! Welcome to the Grapevine, where we round up the (technically unconfirmed) rumors from the wild world of pro wrestling that you may have missed over the evening.
You may have wondered by there's a Go to Hell Tour next month:
Lesnar/Undertaker III happening next month at Hell in a Cell is obviously a change in plans. It was supposed to be at WrestleMania 32 next year, but as everyone can see, this is no longer the case. They have a plan for next year's main event, but it's still too early to confirm what it is. (Source: Wrestling Observer Radio)
We say: We don't think this is a bad move. One month was enough to erase the sour taste of the SummerSlam ending, and it might be best to wrap this feud up as soon as they can. They could then have both Lesnar and Taker face other people who could use whatever rub can be gained from facing them.
Newly-minted WWE Divas Champion Charlotte will be facing Paige and Nikki Bella at Hell in a Cell. This hasn't been formally announced yet, but it's already in the plans. (Source: Wrestling Observer Radio)
We say: Obvious next chapter is obvious.
For WCW fans and Eric Bischoff fans (and any that may overlap), it looks like the WWE is releasing an Eric Bischoff DVD next year. It's not final as the title is still listed as "pending talent involvement," but a Bischoff DVD is actually scheduled for next year. (Source: WrestlingDVDNetwork.com)
We say: This project might get more momentum after the well-received pilot episode of Legends With JBL on the WWE Network, which featured Eric Bischoff. Let's hope this one is a little more balanced, but we doubt it.
What do you think? Who's going to win Lesnar/Taker? Let us know what you think in the comments!
Photo from WWE