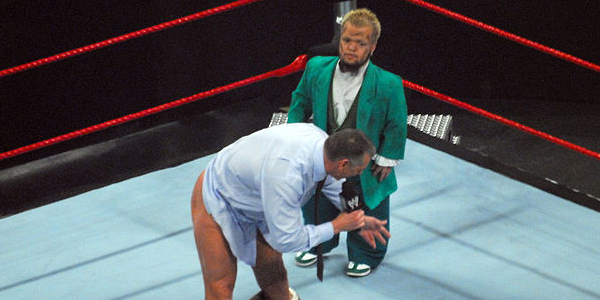 Good morning, everyone! Welcome to the Grapevine, where we round up the (technically unconfirmed) rumors from the wild world of pro wrestling that you may have missed over the evening.
A lot of news coming out, especially with the recent Wellness Policy violation:
Could Hornswoggle's violation have been trumped? A rumor going around is that Hornswoggle (nee Dylan Postl), who was announced to have violated the WWE Wellness Program and been suspended for 30 days, did not actually test positive for any banned substances. Apparently, they did a random urine test at his home (since he no longer goes to every WWE event) and he allegedly could not produce urine within three hours, leading the company to fail him. (Source: WrestlingInc)
We say: Something sounds fishy. We find it more than a little unusual that he couldn't pee at all in three hours, but we think we find it even more so that he would be taking a banned substance. Nothing is ever what it seems, and take everything you read—especially this—with a grain of salt.
Apparently, the performance evaluation storyline involving Kane is based on real-life events. It's allegedly a reference to what happened with Bill DeMott earlier this year. (Source: WrestlingInc)
We say: Well, the best stories are based in reality, after all. Let's hope Corporate Kane doesn't actually turn out to be a bully and a sexual harasser.
In an update on TNA's status with Destination America, it does look like they'll be continuing to air programming past October. It seems as though both sides have come to an agreement to go past the original run of 39 episodes. Dixie Carter had told Sports Illustrated that the show will be on the network until February of next year. (Source: PWInsider)
We say: Sounds good for the company and all its employees, but now they have to make the most of this.
NXT jobber "Mr. 450" Hammett is apparently coming back to work the show, and is hoping to get a deal. Hammett—the guy the Internet remembers best for looking like a Saiyan from Dragon Ball—is the WWC Universal Champion, and will be working the next set of NXT tapings and TakeOver: Respect. (Source: WrestlingInc)
We say: If he gets signed to the company, will he be stuck forever with his Saiyan gimmick? That may or may not be a good thing.

Photo from WWE