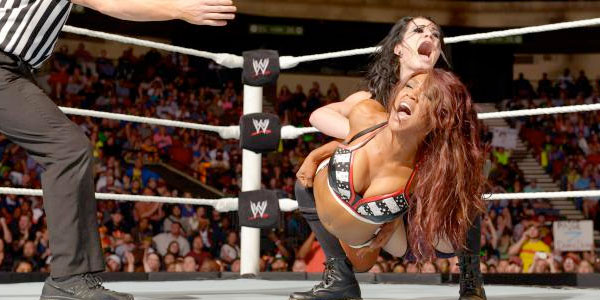 Good morning, everyone! Welcome to the Grapevine, where we round up the (technically unconfirmed) rumors from the wild world of pro wrestling that you may have missed overnight.
An interesting occurrence had... occurred... in Baltimore before
RAW:
Paige and Alicia Fox were apparently kicked out of a Baltimore steakhouse last Sunday. A drunken regular had reportedly been harassing them for photos and videos. The Divas got annoyed and found themselves in a fight that saw drinks being tossed at each other. The incident was apparently not staged for Total Divas, as there were no E! cameramen in the restaurant with them, but conflicting reports do say that it was for the show. (Source: F4WOnline)
We say: If it were for the show, shouldn't the drunk have been kicked out? We don't know how this works, but all we know is to not be a scumbag.
Bo Dallas looks like he's going to get a character tweak. The new finisher he debuted and the promo he cut on SmackDown could be hints to this; he said he'd been trying to inspire people but they've been treating him like a joke. He also said that he's going to be a lot more "humorous" in the future. (Source: F4WOnline)
We say: That... doesn't sound good. Bo could use a character change, but WWE and "funny" almost never works, for Vince McMahon-related reasons.
After reporting that indy star Biff Busick is being looked at by the WWE, it looks like he's sure to be arriving at Orlando. Busick is set to wrestle his last match for Beyond Wrestling on September 26. (Source: WrestlingInc)
We say: Consider this confirming what we (thought) we already knew. Congrats, Biff—make the most of it.

Photo from WWE