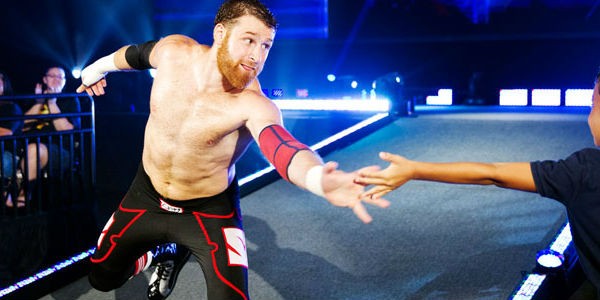 Good morning, everyone! Welcome to the Grapevine, where we round up the (technically unconfirmed) rumors from the wild world of pro wrestling that you may have missed over the evening.
Our week of hot rumors continues with this gloomy Tuesday:
Sami Zayn is showing up at EVOLVE 49 and 50 in New York this weekend. Gabe Sapolsky, the man in charge of the promotion, formally announced it earlier today. We don't know yet what or how much Sami will be doing at the show, or what this means for the rumors surrounding WWE and their relationship with WWNLive, EVOLVE's parent company. We do know that it's likely tied to Johnny Gargano and Tommaso Ciampa being allowed to compete in NXT lately. (Source: WrestlingInc)

— Gabe Sapolsky (@BookItGabe) October 12, 2015
We say: WE WOULD REALLY LIKE TO KNOW WHAT THIS MEANS, BECAUSE WE HAVE A LONG LIST OF INDY STARS WE WOULD LIKE TO SEE ON NXT. (Also, we hope Sami is going to be cleared for action soon!)
Just after reporting on the potential gravity of Cena's time off following Hell in a Cell next week, another theory emerged. Wrestling writer Scott Keith claims that FOX is filming a new fitness-themed reality show, and that Cena would be hosting. Filming is reportedly set to begin October 26 and will last six to eight weeks, likely ending in the first or second week of January. Other than Keith, there are no other sources confirming this rumor. (Source: WrestlingInc, Scott's Blog of Doom)
We say: Even though we want to believe that it's something more and meaningful, this is a plausible explanation for it. One can still argue that "it will be good for business" (as Cena had reportedly said) because it gives a WWE star (and therefore, the WWE) more mainstream attention. The only thing that doesn't add up is that if this were the case, then why be so secretive about it? One would think that this is a project people involved would go overboard in promoting. We'll update you on the story as it develops.
WWE Performance Center coach Billy Gunn is the man responsible for bringing James Storm to NXT. He was the man who got discussions started. Regarding TNA offering more money to Storm to come back, it's not entirely true; they did contact him once they found out he was in NXT, but they apparently didn't offer enough money. TNA wanted him on their India tour to help put over Mahabali Shera. (Source: PWInsider)
We say: At this point, if you're good friends with someone who's got power in NXT, you pretty much have a shot of getting in. It happened with Jushin Liger and William Regal, and it's happening again. (Not sure who brought in Samoa Joe, though.)
Jonathan Coachman, now with ESPN, is teasing a major announcement involving WWE later today. It's presumably about ESPN having some sort of presence in WrestleMania 32, much like they were at SummerSlam this year. The announcement is coming the same day travel packages are going on sale. (Source: WrestlingInc)
We say: No matter what you think of ESPN, this is mainstream attention, and it's huge. Now wrestling has to keep up with the newfound spotlight it's getting.

What do you think? Which other EVOLVE stars do you want to see in NXT now that the relationship is a little clearer? Are you excited about ESPN covering the WWE? Let us know what you think in the comments!

Photo from WWE