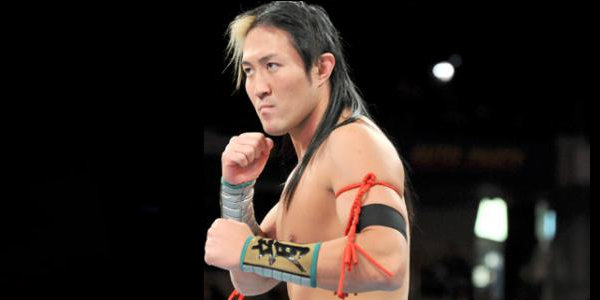 Good morning, everyone! Welcome to the Grapevine, where we round up the (technically unconfirmed) rumors from the wild world of pro wrestling that you may have missed over the evening.
It's Friday, and we're winding down with some interesting bits of news:
WWE wanted to use NJPW footage on the WWE Network, but NJPW turned it down. In a recent column, Bushiroad (NJPW's parent company) president Takaaki Kidani recounted the story of how the WWE attempted to secure the rights to show NJPW on the Network. Kidani stated that in proposing that, NJPW believed that WWE did not see them as competition, and that it was a strategy to lure any NJPW wrestler who got over on the Network away from them. For its part, NJPW has been trying to break into the American market with English broadcasts and the Pro Wrestling Returns show on AXS. (Source: WrestlingInc)
We say: That... is really intriguing. We'll have to give it up to Vince and say that was a pretty shrewd but intelligent maneuver. Loaning the WWE some material would have been the easy way to get over in America, so we'll also have to give NJPW props for choosing to go it the harder way. To be fair to them, they have been gaining momentum—especially a lot this year—so we can't imagine it would be too difficult to achieve their goals.
Morale in the EVOLVE locker room during last weekend's set of shows is up, thanks to the new partnership with the WWE. Buys and attendance for EVOLVE 49 and 50 were up, even if Sami Zayn was not on the official iPPV broadcast, obviously meaning better business and excitement for what lies next with this relationship. (Source: PWInsider)
We say: Some of us in the Smark Henry offices really love EVOLVE, so we're glad to hear this. In fact, we might even like WWE/EVOLVE more than NJPW/ROH, but all this working together news is really great.
Apparently, WWE now encourages aspiring wrestlers to be big indy stars. If wrestlers don't make the cut in a Performance Center tryout, Senior Director of Talent Development Canyon Cemen tells them to make it big in the indies first. This is a huge departure from the old way of thinking, where the company prefers to take on green athletes that they can train in their style from scratch. (Source: WON)
We say: It's clear now that these are Triple H's marching orders (and is a big part of what makes NXT so appealing) but we think the bigger concern is: what happens when these guys do make it in? What happens when they make it to the main roster? What if they get shafted when it's time for them to move on up? The stigma against small guys or "indy darlings" might still exist, and they probably need some sort of insurance against that.
What do you think? Would you have wanted to see NJPW on the Network? Which NJPW stars would you have wanted to see? Let us know what you think in the comments!
Photo from WWE