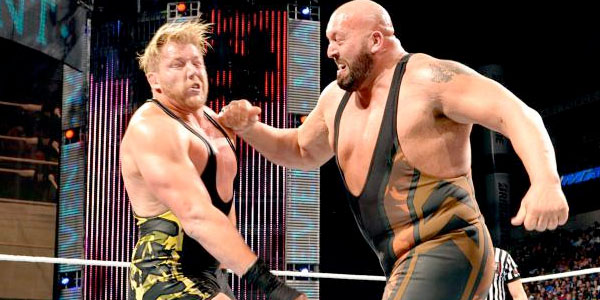 Good morning, everyone! Welcome to the Grapevine, where we round up the (technically unconfirmed) rumors from the wild world of pro wrestling that you may have missed over the weekend.
The MSG stop of Brock's Go to Hell Tour aside, it was a rather quiet weekend:
Jack Swagger is rumored to have been injured after a match with Braun Strowman at a live event on Saturday. Braun won with his usual choke finisher, but other than that, no other details are known at this time. (Source: WrestlingInc)
We say: Yes, Swagger is still employed by the WWE. Since there seems to be no other details at the moment, this looks like an observation made by an overeager fan.
A WWE fan gets ejected from the same live event. Los Matadores spoke with security after their match and pointed out a fan at ringside, which security promptly escorted out. There are no other details as well, other than the fan may have tried to grab at one of the Matadores. It's possible that this could be a misunderstanding. (Source: WrestlingInc)
We say: Guys... leave the wrestlers alone. Whether the fan did actually try to grab one of the Colons or not, it's still an important thing to remember. Reach out and wait for them to touch you, or give them a friendly pat on the back or shoulder. Don't be grabbing a wrestler out there.
Carmella appeared at the NXT live event in Louisville on Saturday, her first appearance after getting slightly injured by Eva Marie. She didn't wrestle, but she appeared to be fine. She got a stinger after Eva Marie accidentally hit her too hard with a running knee to the head. (Source: WrestlingInc)
We say: Good to hear that Carmella doesn't seem to be too shaken up.
Let us know what you think of these news items in the comments below!
Photo from WWE