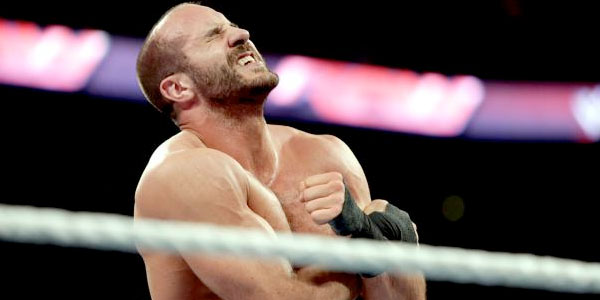 Good morning, everyone! Welcome to the Grapevine, where we round up the (technically unconfirmed) rumors from the wild world of pro wrestling that you may have missed over the evening.
Speculation abound this week:
Cesaro could possibly be in the doghouse. According to Bryan Alvarez of F4WOnline, WWE has no current plans to push Cesaro despite crowd support. Cesaro had been losing to Big Show on TV as of late, while being demoted to Main Event and Superstars, albeit winning his matches there. Alvarez had no other explanation other than it may be rumored that the Swiss Superman got into a backstage incident. (Source: F4WOnline)
We say: Sounds like another one of those "if the shoe fits, wear it" rumors. Yes, Cesaro's momentum is suddenly ice cold, but it could be due to a lot of other reasons. That's not to discount him possibly being in the doghouse; it's really just that we don't know why Cesaro is being treated this way, and this bit of news doesn't really go a long way in revealing the truth.
TNA could possibly be moving to yet another network early next year. Some executives are saying that while they'll be on Destination America through the end of the year, they're looking at jumping elsewhere in early 2016, with the company apparently talking to four different networks. It's said that WGN America is one of the possible candidates, as they expressed interest in the show before TNA went with Destination America. Of course, it's also very likely that TNA will not be on American television next year. (Source: PWInsider)
We say: For the sake of everyone who relies on TNA for any sort of income, we hope this is true. However, we don't know if it's just our general pessimism toward the company and the way it handles things, but we can't help but feel that this is just empty PR being thrown out to hide a more dire situation backstage. We really hope their prospects are looking this good, but should they continue to survive, they need to step up their writing.
A new Diva may be debuting on tomorrow's NXT TakeOver: Respect. There are rumors going around, and it's most likely going to be Nia Jax, cousin of the Rock. On a related note, Hideo Itami may be coming back this month, but that's largely speculation. (Source: WrestlingInc)
We say: Yet another shooting fish in a barrel rumor—with Nia Jax vignettes happening since Brooklyn, it's likely that it's going to lead up to a debut this week. The NXT women's division does need some restocking, posthaste.
Lita is now working in the WWE in what seems to be an agent or liaison role. She has been at all recent TV and PPV events, involved in different meetings, and working with the creative team and producers. (Source: PWInsider)
We say: If she graduates to a bigger role backstage, we'd love to see what she can bring to the product, especially when it comes to the Divas.
What do you think? What do you think Cesaro should be doing now? Who is going to debut tomorrow at Respect, other than new Japanese import Asuka? Let us know what you think in the comments!