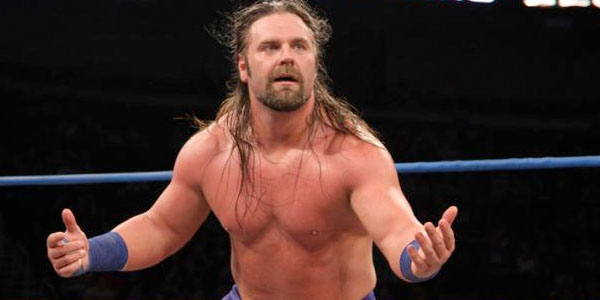 Good morning, everyone! Welcome to the Grapevine, where we round up the (technically unconfirmed) rumors from the wild world of pro wrestling that you may have missed over the evening.
NXT
continues to shock the world:
As you may know by now, James Storm has debuted on NXT, during today's set of post-TakeOver tapings. He posted a tweet yesterday supporting Connor's Cure, and apparently he's been in talks with the company about joining as a "player-coach," meaning he'll be working NXT while possibly being a coach in the Performance Center. We'll keep you updated on his status as developments come in. (Source: WON)
We say: NXT just doesn't stop, does it? Never mind what Vince did back in the '80s, this might just be the real wrestling monopoly right here. We're also amazed that they're letting tenured stars keep their ring names. It's a bit inconsistent (Uhaa Nation had to change his name, while Tommaso Ciampa and Johnny Gargano presumably don't) but it's just interesting to note. Meanwhile, we can't wait to see what they have planned for the Cowboy.
Speaking of new Performance Center signees, Tough Enough contestant Patrick Clark may be signed with the company already. Clark cancelled his indie bookings as he's apparently supposed to report to the Performance Center on October 19. (Source: WON)
We say: We're happy for Patrick, but we just wonder why people still have to be eliminated if they're going to end up back with the company anyway.
The Rock and the Undertaker are in talks to work with the WWE more. Rumor is that Rock and the company are trying to get together for something by the end of the year, while Taker is open to working a bit more special dates this year. Taker is reportedly completely injury-free at the moment. (Source: WON)
We say: We're not sure if there's that much clamor for the Undertaker to return and work consistently, but we'd be cool with the Rock in the right angle. Just so you know, though, WWE: bringing back old stars isn't the only way to dig yourselves up out of your ratings hole.
What do you think? Are you excited to see James Storm in the WWE? Who else do you want to see in NXT? Let us know what you think in the comments!
Photo from TNA