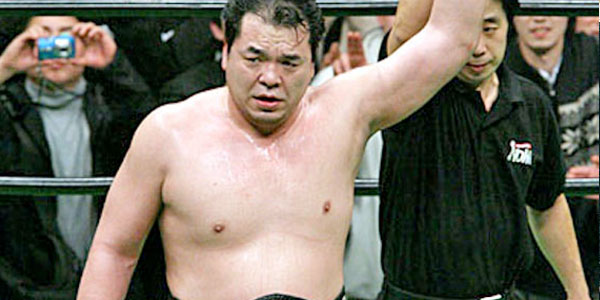 Fate is a funny thing. And there's no greater example of this in today's puroresu scene than the struggling All Japan Pro Wrestling.
The year 1972 saw the birth of two fledging puroresu promotions in Japan: New Japan Pro Wrestling, led by fight-centric Antonio Inoki, and All Japan Pro Wrestling, founded by the beloved Giant Baba. In the years that followed, these two would build their legacies as two of the brightest promotions in the world, despite the difference in wrestling ideologies and stylings.
However, looking at these two promotions today tell a gravely different story. New Japan is currently the number two wrestling promotion in the world next to WWE, with a solid roster, a solid corporate structure, bookers to die for (Jado and Gedo), and a worldwide presence thanks in part to the NJPW World streaming service and positive word of mouth.
All Japan, on the other hand, is struggling to keep their business afloat and their roster from leaving the promotion and declaring themselves freelance wrestlers.
In some ways, since the turn of the millennium, the once-hailed juggernaut has become today's Japanese equivalent of TNA, a company that had so much going for them but lost so much momentum because of circumstances that could have been prevented. And because of these circumstances, the best AJPW could do now is to continue ensuring that losses remain minimal.
For today's installment, we take a look at some of the contributing factors that to the company's struggles today, and why it would be difficult for them to achieve the success they were able to reach once upon a time.
The Second Exodus: Pro Wrestling NOAH
Some fans might be surprised that the exodus of AJPW wrestlers and staff led by Mitsuharu Misawa that resulted to the formation of Pro Wrestling NOAH was the second exodus that happened since AJPW's formation. The first exodus happened back in the '90s, and was led by the recently retired Genichiro Tenryu to form the short-lived Super World of Sports promotion (and gained the ire of Giant Baba in the process). However, the damage was not as grave as expected, since Baba was able to lead the next generation of wrestlers into superstardom, namely the Four Pillars of Heaven (Misawa, Kawada, Kobashi, and Taue).
However, the second exodus virtually crippled All Japan as a whole, as Misawa convinced all of the wrestlers, staff, and referees to join him in forming NOAH after a well-publicized dispute between Misawa and Giant Baba's widow, Motoko Baba.
To give you a clearer idea, it is as if John Cena suddenly decided to make his own promotion and bring everyone in the main roster along with him, bringing down WWE in the process. No company could survive that kind of exodus, one that could have been prevented if only Misawa and Baba could have gotten along and not let politics get in the way of good business.
Thankfully, an unprecedented angle between NJPW and AJPW saved the latter from imminent closure, but sadly, the damage has been done.
Pro Wrestling Love
In 2002, after the interpromotional war between NJPW and AJPW, it was announced that Keiji Mutoh, one third of the Three Musketeers of New Japan, has decided to leave NJPW for AJPW, effectively becoming its president and full owner after Motoko Baba sold all her stock to the master of the Shining Wizard.
During Mutoh's time, aptly known as the "Pro Wrestling Love" era, puroresu saw radical changes that can be categorized as a mixed bag.
On one hand, certain elements that were once forbidden under Giant Baba's watch finally took place during Mutoh's time, such as the focus on the Jr. Heavyweight Division (something, ironically, Mitsuharu Misawa fought for when he was the president of AJPW) and interpromotional matches with other companies, the most popular being the unfathomable IWGP Heavyweight VS Triple Crown double title match between Tenkoji members, Hiroyoshi Tenzan and Satoshi Kojima. The Champion's Carnival (AJPW's equivalent of the G1 Climax) was still upheld by Mutoh as one of AJPW's annual cornerstones. It is through his management that we saw the rise of stars such as Seiya Sanada, Manabu Soya, and current AJPW's biggest star, Suwama.
However, with the change of ownership comes the change in mindset and tradition. Mutoh, being a former nWo member himself, implemented a "Sports Entertainment" approach for the most part, alienating those who stood by old-school AJPW during its glory days.
For example, factions like the VooDoo Murders (VDM), AJPW's most popular "pure heel" faction, and F4 (not the boy band, and yes, that's the actual name of the group), led by Satoshi Kojima, became the norm, as well as some radical storylines that may never have happened back in the day. This is not to say Mutoh did a bad job. After all, Mutoh was dealt a relatively bad hand and had to rebuild the roster from scratch. Despite best efforts, Mutoh could not bring AJPW back to its prominent self, although he was able to carry the company through its dark days. That was, until...
The Super HATE Controversy
We covered this previously in the Halloween edition of Cafe Puro. But as far as implications go, it was bad enough that the company was not able to reach the success of old school AJPW. Now, they also had to deal with problems that won't allow the company to succeed further than it should have gone.
With Mutoh relieving his post as president and the bad press that came from a controversy this dire, it took one last dire push to bring the company back to its feet. And on one night in 2011, all of All Japan's titles were lost to outsiders, with Kenny Omega (then member of DDT) winning the World Junior Heavyweight Championship, Dark Cuervo and Dark Ozz of AAA winning the World Tag Championships, Strong BJ (Daisuke Sekimoto and Yuji Okabayashi) of BJW winning the All Asia Tag Titles, and Jun Akiyama of Pro Wrestling NOAH (the man who was supposed to be the future of AJPW before the Second Exodus happened) finally winning the Triple Crown Championship. It was a long, winding storyline featuring AJPW stars trying to win back their championships from the outsiders. And things seem to look bright for the company. At least, it seemed to go well on paper. But unfortunately...
Speed Partners and The Third Exodus: Wrestle-1
In a move that nobody saw coming, and seemingly taking a page out of Bushiroad's playbook, Speed Partners, an IT company in Japan, purchased full ownership of AJPW on November 2012. Funny thing is, this minor detail was only disclosed to the public on February 2013. This move should have been great for the company, seeing as though Bushiroad purchased full ownership of NJPW previously and has flourished since then. But there was one itsy, bitsy little problem:
Nobuo Shiraishi.
Shiraishi was the appointed owner of AJPW through the Speed Partners deal, and to put it simply, he is the most volatile personality in the world of pro wrestling in this generation and the cause of what would become the Third Exodus.
He has publicly picked a fight with NJPW and Bushiroad owner, Takaaki Kidani (who AJPW was already having good relations with), and declared that AJPW would become the superior pro wrestling company with the threat of a buyout. Everything about Shiraishi screamed "scorched earth", with actions that include:
- Humiliating KENSO (fka Kenzo Suzuki in WWE) for not being "legit" enough as a pro wrestler, and began slapping him in front of the crowd. The humiliation-fest ended when Hikaru Sato showed up and physically stopped Shiraishi from embarassing him further in what seemed to be a 100% shoot.
- Angering legends such as former NJPW booker, Riki Choshu, for his statements including "match fixing" in NJPW, once again firing silos to the company and putting both companies in a state of hostility that exists to this day. Seriously, match fixing.
- And worst of all, in what seemed like a scene from a suspense thriller, he fired AJPW president Masayuki Uchida in his position despite teaching Shiraishi the ropes of the pro wrestling business, and appointed himself the new president, screwing over Mutoh in the process.
Shiraishi was practically the world's worst boss, and because of his crazy transgressions, this led to Mutoh pulling off a Misawa from more than a decade ago and formed his own promotion, bringing along stars who hated Shiraishi's guts. Almost half of the roster said goodbye to AJPW, and in September 2013, Wrestle-1 was born. Shiraishi eventually abandoned his post some time later, and the entire company went through a restructuring with Jun Akiyama as the new president and Motoko Baba returning to the company in an advisor capacity.
The only good thing that came from the whole Speed Partners debacle was the eventual signing of BURNING, former NOAH stars (Akiyama, Shiozaki, Kotaro Suzuki, Atsushi Aoki, and Yoshinobu Kanemaru) that left the company due to NOAH's poor treatment of Kenta Kobashi after his retirement. But in what has become a theme for AJPW, all good things had to come to an end...
The Japan Recession of 2015 and The New Exodus
As some of you know by now, Japan is once again undergoing a recession due to continued problems in the overall economy (as well as the prevalent issue of problematic population growth and relatively minimal numbers in the workforce), which is not necessarily good news for a struggling company like All Japan.
The weakened yen may not necessarily put a huge dent on companies like NJPW, DDT, and Dragon Gate. However, smaller companies like AJPW, NOAH, Wrestle-1, and other indie wrestling companies will be hurt by the unstable economy. And because of this, combined with the struggles of the newly-reformatted All Japan led by Akiyama, the company again saw several high-profile departures.
Akebono (yes, that Akebono), who was previously signed full-time to AJPW, left his post and once again became a freelancer (though he would continue to perform with AJPW in a freelance basis). Go Shiozaki, touted as one of the standard bearers of the new All Japan and multi-time heavyweight champion, also left and became freelance in a move seen as a huge blow to the company. And then you have Kotaro Suzuki and Yoshinobu Kanemaru, stellar junior heavyweights in their own right, following suit and opting to leave All Japan. Basically, 3/5 of BURNING, signed during the Speed Partners era, would leave All Japan.
It was said that the contracts have been changed twice, which is not a good sign especially when you consider that contract renewals happen for everyone in a company in the same time period of the year.
One has to wonder what the future holds for All Japan Pro Wrestling. While it is believed that AJPW would continue to be resilient and remain one of the true symbols of Japanese pro wrestling (after all, they survived with just two members in the roster back in the Second Exodus!), to think that they would ever reach the great heights of the golden days is a long shot. Though still possible, it'll take a wing and a prayer for AJPW to be great once again.
And when you think about it: all of these could have been prevented if only both Misawa and Motoko Baba chilled the fuck out back in 2000.
Do you want to see AJPW prosper? What do you think will happen to AJPW in the future? Sound off in the comments!
Lance Tan Ong has been a banking guy for the past few years but a wrestling guy for most of his life. And after checking out matches of Mitsuharu Misawa and Shinya Hashimoto at an early age, he's also pretty much a puro guy as well. Currently checking out WWE (mostly NXT), NJPW, DDT, and other promotions that catch and demand attention. He currently handles NJPW news and coverage for Smark Henry.