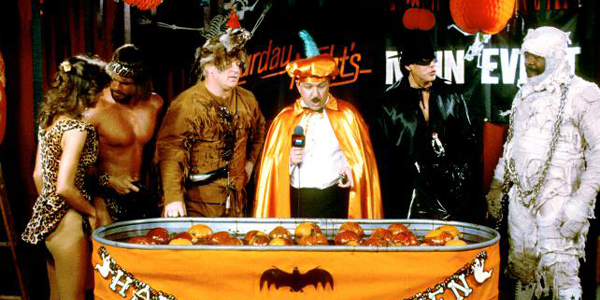 We hope everyone had a happy Halloween last weekend!
Of course, our favorite wrestlers got into the spirit this year, and why wouldn't they? Half of their job is pretty much dressing up—or down—as someone they may or may not really be, anyway. In this edition of #SGQ, we round up our favorites from this year.
Let's begin with the basic wrestlers-as-other-wrestlers:
— ILYASS? (@ilyassking1) October 31, 2015
We'd like to think that Finn really nailed this one. We
do
need a new Best in the World now that someone's jumped sports...
On the other hand, let's just give Aiden English an A for effort, because KO just isn't KO without the extra pounds.
— Ryan Vincent (@WWEMETSFAN) October 31, 2015
Aiden can't even beat KO's daughter Elodie (Owens).
— Kevin Owens (@FightOwensFight) November 1, 2015
Hulk Hogan displayed his sense of humor (which could either be a good thing or a bad thing) by dressing up as his #1 hater on Twitter. (This could also be another distasteful racist joke in the making.)
— Hulk Hogan (@HulkHogan) November 1, 2015
While we're down here looking at NXT, Willing and Gable probably had the best team costume at the live event in Gainesville, Florida:
— Jason Jordan (@JasonJordanJJ) October 31, 2015
Bayley dressed up as a Lego man in that Gainesville event, but we prefer her actual Halloween costume.
— The Fan's Podcast (@TheFansPodcast) October 30, 2015
The Bellas and their respective beaus also pulled off great costumes:
— Nikki & Brie (@BellaTwins) November 1, 2015
The best part of D-Bry as the Cowardly Lion? He didn't need no faux mane with that lion suit!
— Nikki & Brie (@BellaTwins) October 31, 2015
And Nikki and John have been winning Halloween since they became a couple, anyway.
HIS NAME IS WOODY THE COWBOY. HE'S A CERTIFIED G, AND A BONAFIDE STUD IN THE WILD WILD WEST. AND YOU CAN'T. TEACH. THAT.
Here's the runner-up of this year's Halloween.
Of course the Rock kills it in a costume that only very few, including himself, can, well, rock.
But the biggest winner of Halloween, we have to admit, is this guy:
— Eden (@RealEdenWWE) October 31, 2015
Should we even be surprised? We mean, the guy
is
200% into his current character, even when the crowds want him to just be himself. How does he even see? Is it like Sin Cara's mask, where he is able to see through the fabric just because?
Which wrestler do you think had the best costume? Who had wack costumes? Did you go as any wrestler this Halloween? Share it with us in the comments!
Photo from WWE