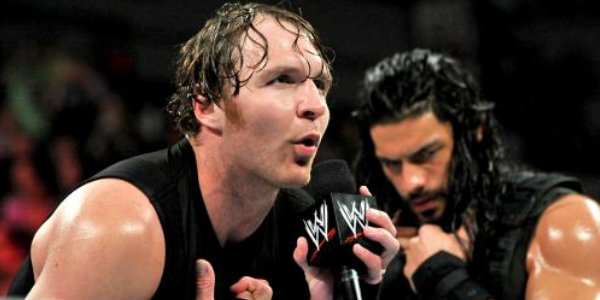 Good morning, everyone! Welcome to the Grapevine, where we round up the (technically unconfirmed) rumors from the wild world of pro wrestling that you may have missed over the evening.
Again, there was no Grapevine yesterday morning because of a lack of good rumors, but that's different now:
There is apparently an internal push within WWE to crown Dean Ambrose champion at Survivor Series. The plan had always been for Roman Reigns to win the title whether or not Seth Rollins got injured. This implies that the plan hadn't been to have Reigns and Ambrose in the finals, but at the very least, the two Shield brothers in the finals seems very likely. As always, though, everything is Vince's call. (Source: PWInsider)
We say: That's... very interesting, if only because Reigns had been primed all this time to take the title. We're not sure if Ambrose is any more ready to be The Man; but at this point, is either man truly ready? It seems to be a sink-or-swim situation for anyone, regardless. We're open to surprises.
TNA is already in the process of looking for a new home. Leading candidates include WGN America (the former home of WWE Superstars) and POP TV, both of which are based in Los Angeles and are bigger, wider-reaching networks than Destination America. POP TV already airs a wrestling show out of Las Vegas, and there were rumors that WGN originally was willing to sign TNA on before Destination America was. (Source: PWInsider)
We say: At the very least, we're glad there are still places for TNA to turn to. If anything, this stay in execution could give them time for a turnaround (should they work for it).
Some people at TNA think Destination America signed ROH to "sabotage" TNA's chances of staying with them. While TNA signed a multi-year deal with Destination America, they had to hit a certain viewership quota to be automatically renewed. The company felt that when they were actually about to hit that quota, rumors started to fly around about Impact Wrestling being canceled and the Ring of Honor TV show was brought on. They felt that ROH was brought on to "dilute" Destination America's wrestling viewership and steal fans from TNA. (Source: PWInsider)
We say: This feels like a whole lot of paranoia from TNA's side. Sounds like the fevered dreams of Bob Ryder, actually. We're not TV executives, but wouldn't ROH coming on after Impact actually be an attempt to boost TNA's ratings, if ROH fans were tuning into Impact as a lead-in to ROH? This is one of those rumors that don't sound like they're true at all; but then again, you can say the same for any potentially controversial news bit.
What do you think? Do you want Dean Ambrose to win the WWE World Heavyweight Championship? If not, who do you want to see win the big one? Let us know what you think in the comments!
Photo from WWE