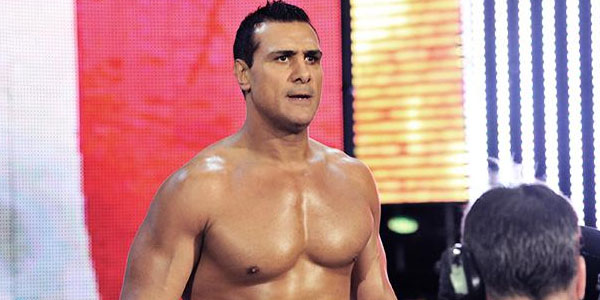 Good morning, everyone! Welcome to the Grapevine, where we round up the (technically unconfirmed) rumors from the wild world of pro wrestling that you may have missed over the weekend.
We hope everyone had a meaningful undas, because that won't be the saddest part of the past few days:
In an update on the Alberto del Rio/AAA/WWE situation, it looks like the WWE won't be allowing del Rio to return to AAA and finish out the rest of his dates. AAA wants him to finish the rest of his tapings, obviously to properly drop the AAA Mega Championship to someone else, even going so far as to advertise him as the WWE United States Champion. Vince obviously wouldn't want one of his top stars to be shown losing on another program, especially if the company is perceived to be more inferior than the WWE.

AAA has postponed their latest set of TV tapings due to the entire situation, which was noted as being due to del Rio just wanting to return to WWE after a deal with Lucha Underground fell through. In slightly related news, Alberto's WWE downside is reported to be around $500,000 instead of the $1.45 million that was previously reported. (Source: WON, PWInsider, The Lucha Report, WrestlingInc)
We say: Wow. What a headache. We love him as a wrestler, but it seems as though El Patron was highly unprofessional in his business dealings with regard to both companies here. WWE of course has way more pull than TNA does, but that doesn't change the fact that blindsiding a company that put its faith in you by making you its biggest champion is a pretty shady thing to do. We'd love to hear Alberto's side in all this, but it's hard to plead innocence when a better way to go about things exists.
Speaking of Mexican stars, WWE apparently believes that Kalisto failed to get over as the new Rey Mysterio. This was said to be the reason why del Rio was brought back in the first place, as he reportedly became an "afterthought" after they stuck him in a team with Sin Cara. He was going to be built up as the next great luchador as he had the physical skills, a look that could be marketed to both kids and adults, and the bonus of being able to speak both English and Spanish. The latter character's negative stigma (which, it must be noted, was brought on by the original Sin Cara, Mistico/Myzteziz) may have played a part in how WWE looks at Kalisto now. (Source: WrestlingRumors.net)
We say: We're not quite sure whether to believe this as it didn't list a reliable source (for whatever that word is worth in these circles) but if this is true, this is one of the stupidest bits of news we've heard about the WWE. (Unfortunately, it would only be par for the course for them.) There are two problems here.
First is the obvious one: how are you going to expect to get Kalisto over when neither him nor the Lucha Dragons as a whole don't even get quality time for people to invest in him/them? Yeah, they're great in the ring and everybody already knew that the moment they debuted on RAW (or the moment Kalisto started tearing it up down at Full Sail). Rey Mysterio had the machinery of the Cruiserweight Championship to help propel him. Again, when you stick someone in matches with no real development, what will the audience do with him? He's a damn good luchador with all right crowd support, but he needs the company's support to be that "next great luchador." Not to mention the brass actively kills organic support for people they don't favor anyway (see: Cesaro, Daniel Bryan).
Second is the less obvious one: we need to stop treating Mistico Sin Cara and Hunico Sin Cara as the same person. We don't treat all Tiger Masks as the same wrestler, do we? Yes, they're the same character, and yes, Hunico has his own faults (at this point he's probably got an entire Botchamania reel with his name on it) but the comparisons aren't even close. Hunico's way more stable as Sin Cara, and that's saying something. He isn't perfect, but he could have also been the next great luchador as he's got the same skillset as Kalisto (and a better one than Mistico) with a slightly better upside (read: size).
The WWE says it wants stars, but they won't stop bumbling around with the hungry people they've got.
Jerry Jarrett is getting back into pro wrestling. The legendary Tennessee promoter, who co-founded TNA with his son Jeff, posted the following on Facebook:
"Don't you just live it when a plan comes together. I once stated that I would get back in the wrestling business when hell froze over. I'm feeling a chill in the air. It is a bit early to announce the plan, but the contracts are with the attorneys. If you wishes (sic

)

for wrestling like it was, you will have a chance to tune in."


Speculation for this range from a stint with GFW or involvement with Classic Wrestling Revolution in Las Vegas, which is said to be aiming to provide benefits for wrestlers and have veterans teach old-school wrestling. (Source: WrestlingInc)
We say: Interesting to say the least, but how many people still care about the senior Jarrett at this point?
What do you think? Did Alberto del Rio do AAA dirty? Is WWE giving the Lucha Dragons a fair shake? Let us know what you think in the comments!

Photo from WWE