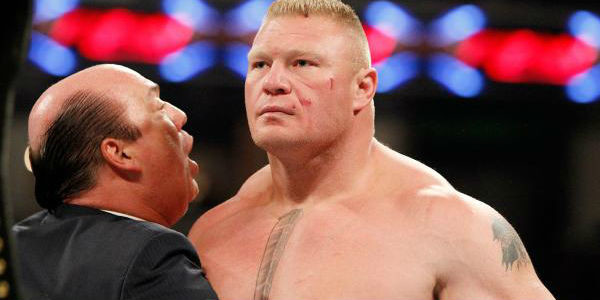 Good morning, everyone! Welcome to the Grapevine, where we round up the (technically unconfirmed) rumors from the wild world of pro wrestling that you may have missed over the evening.
We have news of a potential Brock Lesnar sighting:
Could Brock Lesnar be winning the United States Championship? Lesnar is booked to return next week, December 19 at a WWE live event in Inglewood, CA. One of the three title matches advertised on the card is Brock Lesnar vs. Alberto del Rio for the United States Championship, a title he has never held before. It's possible that the event would be aired on the WWE Network as most of his non-PPV, non-TV appearances have been turned into Network specials, but there isn't any word on that front yet. (Source: WrestlingInc)
We say: While this is us just jumping to conclusions and projecting our fantasy booking wishes—and cards subjecting to change, as well—you have to admit that it's kind of hard to imagine Brock eating anything other than a clean victory, especially in his first match after a while. It's also hard to not televise a rare Brock appearance. We'll keep you updated.
Speaking of Alberto del Rio, the entire MexAmerica angle was Vince McMahon's idea. The split on this week's episode of RAW may be due to the angle already running its course, and that there were plans for del Rio to fly solo in 2016 anyway. (Source: WON)
We say: Why are we not surprised that an old white man wrote an old xenophobic white character to be a heel by supporting another country?
Apparently, Road Dogg is now the man mostly in charge of writing SmackDown. That would explain the remarkably different tone of the show, and also puts some of his recent tweets regarding the WWE product in an intriguing new light. His tweets telling fans to check out Ring of Honor or Lucha Underground if they weren't happy with the WWE could possibly get him in big trouble if it were brought to the attention of the wrong people. (Source: MLW Radio)
We say: It always seems like any show that doesn't have Vince's hands on it turns out to be a lot better show, and while we wouldn't encourage you to encourage other people to patronize your competitors if they don't like you, it's actually a pretty level-headed response coming from him.
What do you think? Would you want to see Brock hold the U.S. Championship like Cena did? Let us know what you think in the comments!
Photo from WWE