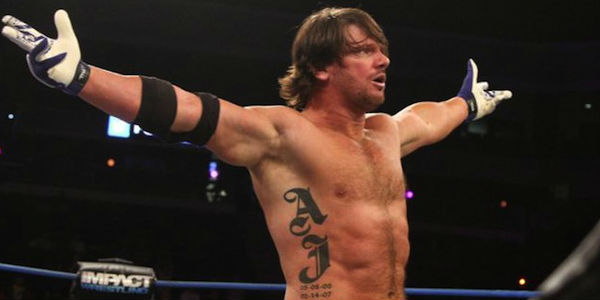 Good morning, everyone! Welcome to the Grapevine, where we round up the (technically unconfirmed) rumors from the wild world of pro wrestling that you may have missed over the evening.
We have a not-so-great update on one of your favorite wrestlers:
Despite the resident NJPW physician telling us there's nothing wrong with him, it looks like AJ Styles's back isn't getting any better. He's now been removed from this weekend's slate of NJPW World Tag League shows. Initial news was that he was suffering from a herniated disk in his back, although medical trainer Takeshi Misawa cleared him afterward. Styles is set to take on Ring of Honor World Champion Jay Lethal at ROH's Final Battle on December 18 and Shinsuke Nakamura on Wrestle Kingdom 10. It is now unclear as to what the plans for him on these shows are, and whether ROH has a backup plan for their show next week. (Source: WrestlingInc)
We say: We're not sure what to make of the trainer clearing him medically, but it does seem like something is wrong if AJ can't compete. We wish him well in his recovery.
There are apparently some "significant creative changes" that could be starting with this week's episode of RAW. There were surveys sent out to fans asking them to compare RAW with NXT, as well as surveys about what they didn't like about RAW. (Source: Wrestling Observer Radio)
We say: This is such a vague statement that means very little unless we actually start seeing something new. (Apparently, it also has nothing to do with Dewey Foley on Creative.)
The Big Show may be coming back to TV soon. Show, who hasn't been seen on TV since losing to Roman Reigns in the first round of the WWE World Heavyweight Championship tournament, was working out at the Performance Center last week and worked live events last weekend. (Source: PWInsider, WrestlingInc)
We say: That's fine and all, but you have to consider that nobody really noticed he was gone. Maybe he should've held out a little while longer?
What do you think, Henrinites? What kind of "significant creative changes" do you want to see on RAW, anyway? Let us know what you think in the comments!

Photo form WhatCulture